Bloom Physical Medicine
NECK PAIN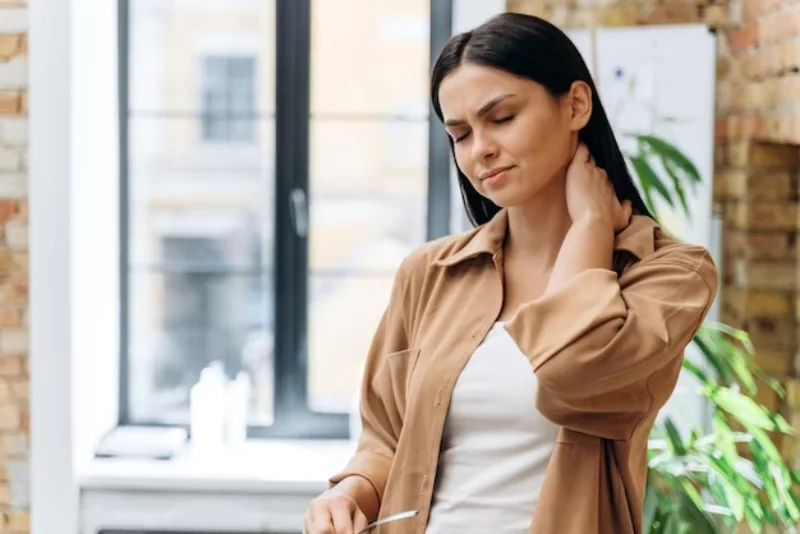 Neck Pain Specialists in Greenville, SC
Neck injuries, even minor ones, can seriously impair your capability to perform even the simplest tasks despite being a rather small area. LeJeune Integrated Medical Centers' team can assist you by recommending various treatments and therapies for both acute and chronic pain in the neck.
The experienced team at Bloom Physical Medicine provides people who are struggling from pain in the neck with effective pain management treatment.
What You Need to Know about Neck Pain
The neck, also known as the cervical spine, begins at the base of the skull and contains seven small vertebrae. Although your neck is strong enough to support your head's full weight, it is easy to injure due to its high-level of flexibility.
There are countless ways to injure the neck and it is prone to pain and injury due to its mechanics. Prolonged sitting, constant repetitive movements, accidents, poor posture, and carrying a heavy bag or purse are all ways your neck could be negatively affected.
Chat With An Expert
We are happy to help you with your questions and concerns.
Frequently Asked Questions
What Causes Neck Pain?
Approximately 80% of people experience neck pain in their lifetime, and between 20% and 50% of people deal with it on an annual basis. There are numerous reasons as to why people live with neck pain, including:
Muscle Strain
Spondylosis
Arthritis
Cervical Radiculopathy
Whiplash
Degenerative Disc Disease
Stenosis
Fibromyalgia
How Is Neck Pain Treated?
Our team at Bloom Physical Medicine will conduct a thorough diagnostic evaluation to determine the cause of your neck pain, then they will design a treatment plan and set of protocols to get you out of pain as quickly and effectively as possible. Your individual conditions will determine the treatment program, however, some standard modalities that are very useful in treating neck pain include Platelet Rich Plasma Injections, trigger point injections, chiropractic adjustments, and rehabilitation exercises.
"What a great place to get treatment. The staff is super nice and friendly and ready to help you. Came with a very tight back and felt so much better after."
"The staff at Bloom make me feel welcomed and cared for each time I walk in the doors. It is difficult to find a medical office that truly listens and tailors treatment to each individual patient- but I found that at Bloom Physical Medicine!"
"Incredible service! I had shoulder pain from years of combat sports, but I was always worried about having a surgery. I did Bloom's 12 week program. It's changed everything for me. I can finally throw my jabs and even feel stronger...Highly recommend it!"
Get in Touch
Open Hours
Tues - Thurs — 8:00am - 5:00pm
Mon & Fri — By Appointment
Saturday & Sunday — Closed